Posts for tag: root canal treatment
By Kosnic & Murphy Dental
April 12, 2020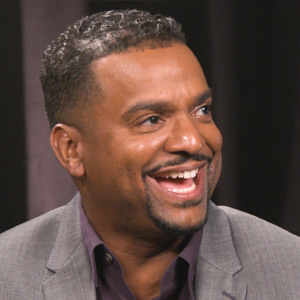 As the host of America's Funniest Home Videos on ABC TV, Alfonso Ribeiro has witnessed plenty of unintentional physical comedy…or, as he puts it in an interview with Dear Doctor–Dentistry & Oral Health magazine, "When people do stuff and you're like, 'Dude, you just hurt yourself for no reason!'" So when he had his own dental dilemma, Alfonso was determined not to let it turn onto an "epic fail."
The television personality was in his thirties when a painful tooth infection flared up. Instead of ignoring the problem, he took care of it by visiting his dentist, who recommended a root canal procedure. "It's not like you wake up and go, 'Yay, I'm going to have my root canal today!'" he joked. "But once it's done, you couldn't be happier because the pain is gone and you're just smiling because you're no longer in pain!"
Alfonso's experience echoes that of many other people. The root canal procedure is designed to save an infected tooth that otherwise would probably be lost. The infection may start when harmful bacteria from the mouth create a small hole (called a cavity) in the tooth's surface. If left untreated, the decay bacteria continue to eat away at the tooth's structure. Eventually, they can reach the soft pulp tissue, which extends through branching spaces deep inside the tooth called root canals.
Once infection gets a foothold there, it's time for root canal treatment! In this procedure, the area is first numbed; next, a small hole is made in the tooth to give access to the pulp, which contains nerves and blood vessels. The diseased tissue is then carefully removed with tiny instruments, and the canals are disinfected to prevent bacteria from spreading. Finally, the tooth is sealed up to prevent re-infection. Following treatment, a crown (cap) is usually required to restore the tooth's full function and appearance.
Root canal treatment sometimes gets a bad rap from people who are unfamiliar with it, or have come across misinformation on the internet. The truth is, a root canal doesn't cause pain: It relieves pain! The alternatives—having the tooth pulled or leaving the infection untreated—are often much worse.
Having a tooth extracted and replaced can be costly and time consuming…yet a missing tooth that isn't replaced can cause problems for your oral health, nutrition and self-esteem. And an untreated infection doesn't just go away on its own—it continues to smolder in your body, potentially causing serious problems. So if you need a root canal, don't delay!
If you would like additional information on root canal treatment, please contact us or schedule a consultation. You can learn more by reading the Dear Doctor magazine articles "A Step-By-Step Guide to Root Canal Treatment" and "Root Canal Treatment: What You Need to Know."
By Kosnic & Murphy Dental
September 15, 2019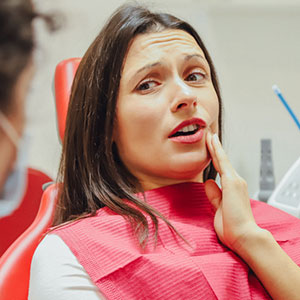 You depend on your family dentist for most of your oral care. There are some situations, though, that are best handled by a specialist. If you or a family member has a deeply decayed tooth, for example, it might be in your long-term interest to see an endodontist.
From the Greek words, endo ("within") and odont ("tooth"), endodontics focuses on dental care involving a tooth's interior layers, including the pulp, root canals and roots. While general dentists can treat many endodontic problems, an endodontist has the advanced equipment and techniques to handle more complex cases.
The majority of an endodontist's work involves teeth inwardly affected by tooth decay. The infection has moved beyond the initial cavity created in the enamel and dentin layers and advanced into the pulp and root canals. The roots and underlying bone are in danger of infection, which can endanger the tooth's survival.
The most common treatment is root canal therapy, in which all of the infected tissue is removed from the pulp and root canals. Afterward, the empty spaces are filled and the tooth is sealed and crowned to prevent future infection. General dentists can perform this treatment, primarily with teeth having a single root and less intricate root canal networks. But teeth with multiple roots are a more challenging root canal procedure.
Teeth with multiple roots may have several root canals needing treatment, many of which can be quite small. An endodontist uses a surgical microscope and other specialized equipment, as well as advanced techniques, to ensure all of these inner passageways are disinfected and filled. Additionally, an endodontist is often preferred for previously root-canaled teeth that have been re-infected or conditions that can't be addressed by a traditional root canal procedure.
While your dentist may refer you to an endodontist for a problem tooth, you don't have to wait. You can make an appointment if you think your condition warrants it. Check out the American Association of Endodontists webpage www.aae.org/find for a list of endodontists in your area.
Advanced tooth decay can put your dental health at risk. But an endodontist might be the best choice to overcome that threat and save your tooth.
If you would like more information on endodontic dentistry, please contact us or schedule an appointment for a consultation. You can also learn more about this topic by reading the Dear Doctor magazine article "Why See an Endodontist?"
By Kosnic & Murphy Dental
February 27, 2019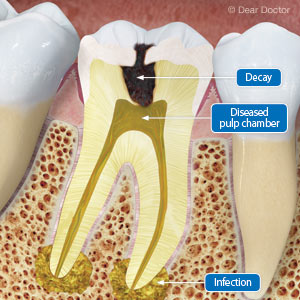 A root canal treatment is a common procedure performed by dentists and endodontists (specialists for inner tooth problems). If you're about to undergo this tooth-saving procedure, here's what you need to know.
The goal of a root canal treatment is to stop tooth decay within a tooth's interior and minimize any damage to the tooth and underlying bone. This is done by accessing the tooth's pulp and root canals (tiny passageways traveling through the tooth roots to the bone) by drilling into the biting surface of a back tooth or the "tongue" side of a front tooth.
First, though, we numb the tooth and surrounding area with local anesthesia so you won't feel any pain during the procedure.  We'll also place a small sheet of vinyl or rubber called a dental dam that isolates the affected tooth from other teeth to minimize the spread of infection.
After gaining access inside the tooth we use special instruments to remove all of the diseased tissue, often with the help of a dental microscope to view the interior of tiny root canals. Once the pulp and root canals have been cleared, we'll flush the empty spaces with an antibacterial solution.
After any required reshaping, we'll fill the pulp chamber and root canals with a special filling called gutta-percha. This rubberlike, biocompatible substance conforms easily to the shape of these inner tooth structures. The filling preserves the tooth from future infection, with the added protection of adhesive cement to seal it in.
Afterward, you may have a few days of soreness that's often manageable with mild pain relievers. You'll return for a follow-up visit and possibly a more permanent filling for the access hole. It's also likely you'll receive a permanent crown for the tooth to restore it and further protect it from future fracture.
Without this vital treatment, you could very well lose your tooth to the ravages of decay. The time and any minor discomfort you may experience are well worth the outcome.
If you would like more information on treating tooth decay, please contact us or schedule an appointment for a consultation. You can also learn more about this topic by reading the Dear Doctor magazine article "Root Canal Treatment: What You Need to Know."