Posts for tag: tooth decay
By Kosnic & Murphy Dental
May 12, 2020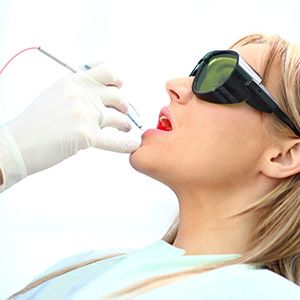 Advanced tooth decay is a serious dental problem that can threaten an affected tooth's survival. But for decades now dentists have reliably used root canal treatment to better a decayed tooth's odds. This routine procedure performed with dental drill and special hand tools removes infected tissue inside a tooth and replaces the voids with a filling to prevent future infection.
But now there's a new way to perform a root canal—with a surgical laser. Lasers, amplified and focused light beams, aren't new to healthcare—they're an integral feature of many routine medical treatments and surgeries. But their use is relatively new to dentistry, and to endodontics (treating the interior of teeth) in particular.
Lasers can be used in root canal treatment to perform a number of tasks. They can remove diseased tissue and other debris from the innermost tooth pulp. They can be used to clean and shape root canal walls in preparation for filling. And they can also be used to soften and mold the filling material to fit more precisely within a tooth's particular root canal network.
Although laser-assisted root canal therapy isn't yet widespread, laser's limited use to date has given us a fair picture of both their advantages and disadvantages. As with other medical laser applications, lasers are very precise in removing diseased tissue without too much disruption of healthy tissue. There's less need for anesthesia than with dental drills, and lasers are a lot less noisy and jarring. Patients by and large experience less bleeding, as well as less discomfort or infection afterward.
But because laser light can only travel in a straight line, they're difficult to use in many tightly curved root canals. In these cases, the traditional methods are better suited, although a laser can be used in conjunction with other tasks. Temperature with lasers must also be carefully managed lest the high heat that's often generated damages natural tissues.
Although lasers won't be replacing traditional treatment methods for decayed teeth in the foreseeable future, there's hope they'll become more commonplace as technology and techniques continue to advance. Lasers can only improve what already is an effective means of saving teeth.
If you would like more information on treatments for advanced tooth decay, please contact us or schedule an appointment for a consultation. You can also learn more about this topic by reading the Dear Doctor magazine article "Laser-Assisted Root Canal Treatment."
By Kosnic & Murphy Dental
February 27, 2019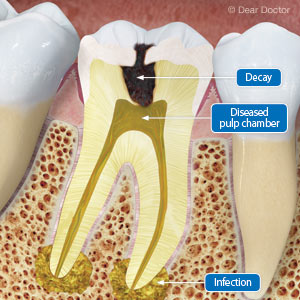 A root canal treatment is a common procedure performed by dentists and endodontists (specialists for inner tooth problems). If you're about to undergo this tooth-saving procedure, here's what you need to know.
The goal of a root canal treatment is to stop tooth decay within a tooth's interior and minimize any damage to the tooth and underlying bone. This is done by accessing the tooth's pulp and root canals (tiny passageways traveling through the tooth roots to the bone) by drilling into the biting surface of a back tooth or the "tongue" side of a front tooth.
First, though, we numb the tooth and surrounding area with local anesthesia so you won't feel any pain during the procedure.  We'll also place a small sheet of vinyl or rubber called a dental dam that isolates the affected tooth from other teeth to minimize the spread of infection.
After gaining access inside the tooth we use special instruments to remove all of the diseased tissue, often with the help of a dental microscope to view the interior of tiny root canals. Once the pulp and root canals have been cleared, we'll flush the empty spaces with an antibacterial solution.
After any required reshaping, we'll fill the pulp chamber and root canals with a special filling called gutta-percha. This rubberlike, biocompatible substance conforms easily to the shape of these inner tooth structures. The filling preserves the tooth from future infection, with the added protection of adhesive cement to seal it in.
Afterward, you may have a few days of soreness that's often manageable with mild pain relievers. You'll return for a follow-up visit and possibly a more permanent filling for the access hole. It's also likely you'll receive a permanent crown for the tooth to restore it and further protect it from future fracture.
Without this vital treatment, you could very well lose your tooth to the ravages of decay. The time and any minor discomfort you may experience are well worth the outcome.
If you would like more information on treating tooth decay, please contact us or schedule an appointment for a consultation. You can also learn more about this topic by reading the Dear Doctor magazine article "Root Canal Treatment: What You Need to Know."
By Kosnic & Murphy Dental
October 20, 2018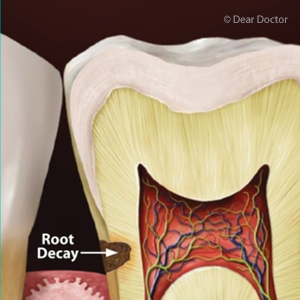 Tooth decay is a highly destructive dental disease, responsible along with periodontal (gum) disease for most adult tooth loss. And we become even more susceptible to it as we get older.
One form of decay that's especially prominent among senior adults is a root cavity. Similar to a cavity in the crown (visible tooth), this form instead occurs at or below the gum line in the roots. They happen mainly because the roots have become exposed due to gum recession, a common consequence of periodontal (gum) disease and/or brushing too hard.
Exposed roots are extremely vulnerable to disease because they don't have the benefit of protective enamel like the tooth crown, covered instead with a thin and less protective mineral-like material called cementum. Normally, that's not a problem because the gums that would normally cover them offer the bulk of the protection. But with the gums receded, the roots must depend on the less-effective cementum for protection against disease.
Although we treat root cavities in a similar way to those in the crown by removing decayed structure and then filling them, there's often an added difficulty in accessing them below the gum line. Because of its location we may need to surgically enter through the gums to reach the cavity. This can increase the effort and expense to treat them.
It's best then to prevent them if at all possible. This means practicing daily brushing and flossing to remove bacterial plaque, the thin, built-up biofilm on teeth most responsible for both tooth decay and gum disease. You should also visit your dentist at least twice a year for professional cleanings and advanced prevention methods like topical fluoride to strengthen any at-risk teeth.
You should also seek immediate treatment at the first sign of gum disease to help prevent gum recession. Even if it has occurred, treating the overall disease could help renew gum attachment. We may also need to support tissue regeneration with grafting surgery.
Root cavities are a serious matter that could lead to tooth loss. But by practicing prevention and getting prompt treatment for any dental disease, you can stop them from destroying your smile.
If you would like more information on diagnosing and treating root cavities, please contact us or schedule an appointment for a consultation. You can also learn more about this topic by reading the Dear Doctor magazine article "Root Cavities: Tooth Decay near the Gum Line Affects Many Older Adults."